Introducing the
Sloped Ceiling Storage Bracket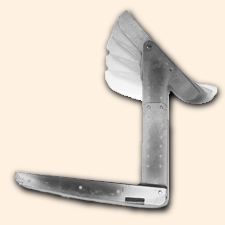 The Sloped Ceiling Storage Bracket presents a sturdy (300lb load rating) and very functional way to make the most challenging areas into useable storage space!
Designed using a back vertical support, allows for a clear, obstruction-free front access as well as having the advantage of a vertical adjustment from 16" to 24" for maximum storage - making angled ceilings in attics and garages into useable space.
The Sloped ceiling Storage Bracket is attached to framing members within the ceiling using the multiple (12) adjustments for roof pitches 1-on-12 thru 12-on-12 will allow the bracket's vertical members to hang plumb and the brackets arms level - now ready to receive a shelf from one bracket to another! Affordably, the bracket is designed with a 3" degree back pitch on all support arms to compensate for 1/2 roof pitches, and the safety of stored items from slipping forward.
Additional Accessories
Large & Small Mid-Span Arm Bracket creating multiple levels of storage off either side of the bracket.
Storage hooks: 4: for multi-purpose use and 1-3/4" clothes rod hook. Both acvcessory hooks are to be hung from bottom of the main support arm and used in conjunction with a standard 1-1/4" clothes pole.
Product Specifications
Rated at 300lbs per bracket
Recommended spacing not to exceed 36" on center
Always secure bracket to framing member
More Options
Zinc Metal Finish Only - $219.00 each
+ UPS Shipping
Minimum Order 6 Pieces
Not in stock
Part Number: SCSB008
Please call 732-292-9144.
Ask About End Caps for Closet Pole!