You asked, we listened...
The Original
Sloped Ceiling Clothes Rod Bracket

Now Shelf Ready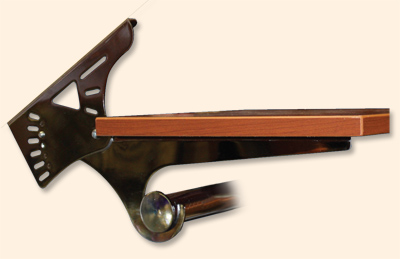 Make unused sloped ceiling space functional!
Providing 11 adjustment positions and holds shelves up to 14 inches deep!
This useful bracket allows the opportunity to make otherwise unusable sloped ceiling space, into an area for hanging clothes! With its multiple adjustments, the Sloped Ceiling Clothes Rod Bracket allows either contractor or consumer a simple way to make unused space functional.
Still as easy as 1-2-3!
Attach the bracket to framing member
Determine proper angle and simply install and tighten both bolts ~ 11 adjustment positions!
Install clothes rod and fasten shelf within the Sloped Ceiling Clothes Rod & Shelf Bracket
Product Specifications
Brackets are:
Rated at 125lbs per bracket
14 gauge steel
Recommended spacing not to exceed 36" on center
Always secure bracket to framing member
More Options
Chrome Finish Part #CRBS003 - $39.95
Brushed Nickel Finish with Clear Coat
Part #CRBS004 - $42.95
+ UPS Shipping
Wholesale Pricing Available.
Please call 732-292-9144.
Ask About End Caps for Closet Pole!